Physiotherapy Martigny & Finhaut
Physiotherapy clinic PhysioNRJ
Physiotherapy and services in Martigny and Finhaut is offered by PhysioNRJ. We have physiotherapy services both on our clinic and at your residence, with or without prescription.
We are also offering bike fiting and muscle testing and assessment for clubs, teams or individual athletes with our muscle testing device, that gives you accurate live feedback upon your coordination. This is suitable for any athlete whom would like to increase performance by achieving a better coordination.
Karin | Responsable physiotherapist at Cabinet PhysioNRJ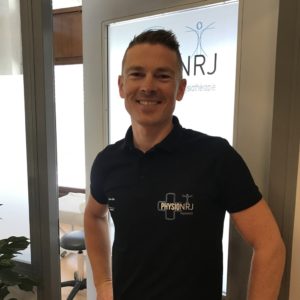 Bjørn | Responsable physiotherapist Cabinet PhysioNRJ
Amélie | Physiotherapist at Cabinet PhysioNRJ
Rose | Physiotherapist at Cabinet PhysioNRJ
---
Physiotherapy treatment services
Analgesic | Biomechanics | Muscular balance | Proprioception and core stability | McKenzie | Trigger points | myofascial release | Low Level Laser Therapy | Dry Needling | Kinesiotaping | Exercise Therapy
Physiotherapy Martigny | Finhaut
---
Physio clinic PhysioNRJ in Martigny offers services in sports physiotherapy, neurology, rheumatology and sports coaching | In our clinic or at your home residence | with or without a prescription. Our physiotherapy services are recognised and reimbursed by the Swiss insurance companies.

PhysioNRJ | Our clinic
---
Our physiotherapy
practices are located in Martigny
 centre with l'école club Migros and Résidence Victoria in Finhaut. Physiotherapy at our clinic in Martigny near the ski stations around like Verbier, Marecottes or in our clinic in Finhaut. We also offer consultations at your place of training, I.e. club or training environment.
PHYSIOTHERAPY ON CALL
---
We provide physiotherapy services in clinic and around Martigny  with home rehabilitation in the areas neurology where we work with Bobath techniques | Movement Science | PNF (proprioceptive neuromuscular facilitation) | neurodynamics. We treat stroke patients | Paraplegia | MS | Parkinson. , rheumatology, massage and lymphatic drainage.

SPORTS PHYSIOTHERAPY
---
We have a solid experience in the field of sports physiotherapy and more than 10 years of experience in physical training. We can help with rehabilitation and physical preparation for your sport.

PHYSIOTHERAPY MARTIGNY | FINHAUT
---
Our physiotherapy services in PhysioNRJ: Exercise therapy, manual therapy, dry needling, LLLT, McKenzie, Kinesiotaping, biomechanics, bike fitting, sports coaching, training program and physical testing.

BIKE FITTING
---
MyoKinematics
 is a unique method of study developed by 
PHYSIOINNOVATION
. We present a bike fitting method that measures muscle activity are measured separately. This on the basis of a clinical examination of you as a cyclist, nomatter your level.
---