PHYSIOTHERAPY | COACHING | CORE TRAINING
Physiotherapy Martigny & Finhaut | Team PHYSIONRJ
We are a mix mixed team that loves all sports in these beautiful mountains here in Valais. We have a solid background and experience from sports science and physiotherapy. Our physiotherapy approach is based on the modern bio-psycho-social model and implements exercise therapy to the extent possibly for the given case and level. We also work with techniques such as manual therapy, LASER therapy, non-invasive perineal rehab, kinesiotaping, dry-needling and McKenzie.
Our main clinic of Physiotherapy Martigny & Finhaut are located in the heart of Martigny together with the commercial centre of Migros. Our other clinic in Finhaut is situated in the Victoria residence, center of town. In Martigny there is an underground parking and elevator for your convenience. We have access to a fitness for patients with a medical prescription to ensure an active rehabilitation when possible concerning both medical presciption, diagnosis, level and progress.
Furthermore we offer coaching and core training in the école club migros establishment in the center of Martigny if you come without physiotherapy prescribed issues. We work with a wide range of tools for stimulating for example core stability, proprioception and movement quality. The team of therapists also offers initial courses for physical preparation & training in trail running, cross country skiing and ski touring. These courses will be offered during the year. Please contact for more information.
Team PHYSIONRJ | Centre commercial de la Migros in Martigny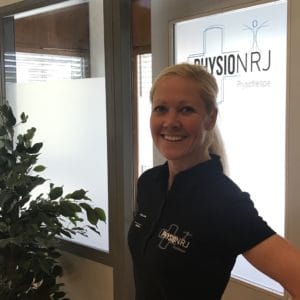 Karin | Responsable Physiotherapist in Martigny & Finhaut at Cabinet PHYSIONRJ
Bjørn | Responsable Physiotherapist in Martigny & Finhaut at Cabinet PHYSIONRJ
Lara | Physiotherapist in Martigny at Cabinet PHYSIONRJ
Anne-Sofie | Physiotherapist in Martigny at Cabinet PHYSIONRJ
Rose | Physiotherapist in Martigny at Cabinet PHYSIONRJ